Due to the fears of rising inflation and economic slowdown, technology leaders are finding themselves in a fix. They believe they will likely face more scrutiny of IT spending and more pressure to establish the business value. Unlike the response to the pandemic as well as the war, which mandates huge investments in the technology underpinning digital experiences, new delivery models, and anywhere work.
The response to the existing economic headwinds is likely to necessitate optimization and rationalization, along with maintaining resilient, modern environments and not undercutting the organization's future tech strategy. To meet the growing market demands, organizations are making digital and technology investments across their operational model.
Read more: Tech-Related Ethical Concerns Businesses Should Address in 2022
Deriving Business Value from Tech
Mixed economic signals and fluctuating markets worldwide complicate tech strategy planning for the year ahead. The ongoing economic downturn has highlighted the need for enterprises to be resilient. They are now more focused on becoming intelligent organizations by leveraging the power of data. Enterprises must now focus on shifting from being a process-driven organization to a data-driven culture.
Where should they make bold investments?

On what components should they cut back?

Where do they have room to experiment?
Technology architecture leaders are now assessing their spending across the board to deliver maximum business value. To help affirm the budgeting and decision-making in this time of uncertainty, Forrester's research team has developed a new planning guide that provides data-driven, research-backed insights and detailed guidance on where to increase and defend investments and where to decrease investment across business functions.
With this rise in financial pressures, cost optimization and portfolio rationalization are emerging at the forefront of technology leaders' priorities. This incorporates technologies like cloud cost optimization, resilient operational infrastructure, integrated software delivery platforms, core business applications to protect assets and people, distributed data platforms, vertically aligned IoT and edge use cases, and intelligent document extraction. This has also led the industry leaders to increase or defend their investments in:
Tools and tech that optimizes cloud costs

Holistic software delivery platforms

Core business applications to protect business assets and people
Resilient and operational infrastructure

Globally distributed data platforms with multimodal architecture

Intelligent document extraction to integrate critical business processes

Vertically aligned edge and IoT use cases for anywhere work
Read more: The Future of Consumer Interaction: The Role of Tech to Enhance Consumer Experience
Establishing a Legacy of Tech-driven Values
Irrespective of the mixed economic signals and business challenges around the world, technology executives are approaching the 2023 strategy planning cycle with a growth mindset.
One major lesson the pandemic taught was: Technology will continue to be the beacon of innovation that will enable businesses to better connect with their customers. Many customer-obsessed organizations accelerated their shift to digital during the pandemic and are continuing to do so to deliver innovative customer experiences. Now it is up to the industry leaders to align their technological architectures with their operational strategies and build a roadmap that ensures successful digital transformation. But formulating this strategy requires spending.
Forrester's US Tech Market Outlook 2022 report highlighted that there had been an acceleration in tech spending since the start of the pandemic. US tech organization spending grew by 9% in 2021, and they are now projected to reach 7.2% year-over-year growth by 2022. Further, Forrester's survey also found that 67% of US IT professionals predict an increase in their tech budgets over the next 12 months, and around 26% of the professionals expect more than a 5% increase in their tech spending. By 2023, 40% of enterprise intelligence initiatives are intended to be business-specific and purpose-built, thus reducing the data to decisions time frame by almost 25%.
However, increasing spending in times of looming geopolitical friction, widespread inflation, and chronic supply chain constraints indicates they need to have a strong strategy and stick to it.
Corporations need to incorporate the necessary data and information to navigate their operations through these headwinds without sacrificing organizational growth and to ensure that increased tech spending is put to the right use. A few of the following elements that can assist in efficiently formulating the plan include:
Read more: An Experiment on Effect: How Virtual Technologies like Metaverse Transform Our Way of Life
Recognizing value before reducing costs
Businesses need to align their technology investment decisions with the same risk and opportunity framing as they undertake for the business itself. With the need to rapidly decode technology decisions into business value rising like never before, industry leaders, along with technology executives, need to devise a framework to keep their company's customers' requirements and expectations central to their investments.
Reducing the costs that do not push the customer forward
By tying technology spending directly to the delivery of objectives, businesses can create more customer value. They need to understand that tech funding is ineffective when negotiating the evidently endless tradeoffs that exist. Technology executives must employ a cost-to-value approach to empower the organization as well as strengthen the desired outcomes.
Concentrating on pragmatic innovation
Industry leaders need to discover where the IT organization can evolve and become more valuable to the business. Employing experimentation as an opportunity can assist in focusing innovation on the pragmatic instead of the dynamic. Technology executives should integrate technologies, concepts, as well as capabilities to directly impact the top or bottom line of the organization.
One marker of technology's increasing significance to strategy and operations is that organizations are devoting more resources to their digital technology capabilities and are cutting off resources from other parts of their business. A recent survey highlighted that the funding of digital and technology initiatives has increased, and so have the numbers of full-time equivalents in digital and technology roles.
Investments in technology significantly support a successful transformation than those that are smaller in scope. To achieve their ambitions, it is vital for businesses to understand what it really implies to differentiate themselves from others on their technology—as "technology" and "digital" are such broad terms and represent different things in different organizations.
Approximately 30% of large organizations are likely to double their use of intelligent automation in knowledge retention, dissemination, and information synthesis by 2027, thus filling the skills vacuum in the data to the insight life cycle.
To identify the specific elements of technology, enterprises are establishing a clear link between the technology endowment and economic outperformance. To underpin successful digital transformations, they are looking at the technology endowment's individual capabilities as well as the top-decile economic performers that are significantly leading the domain.
Read more: The Metaverse: How is it Revolutionizing the Way We Shop?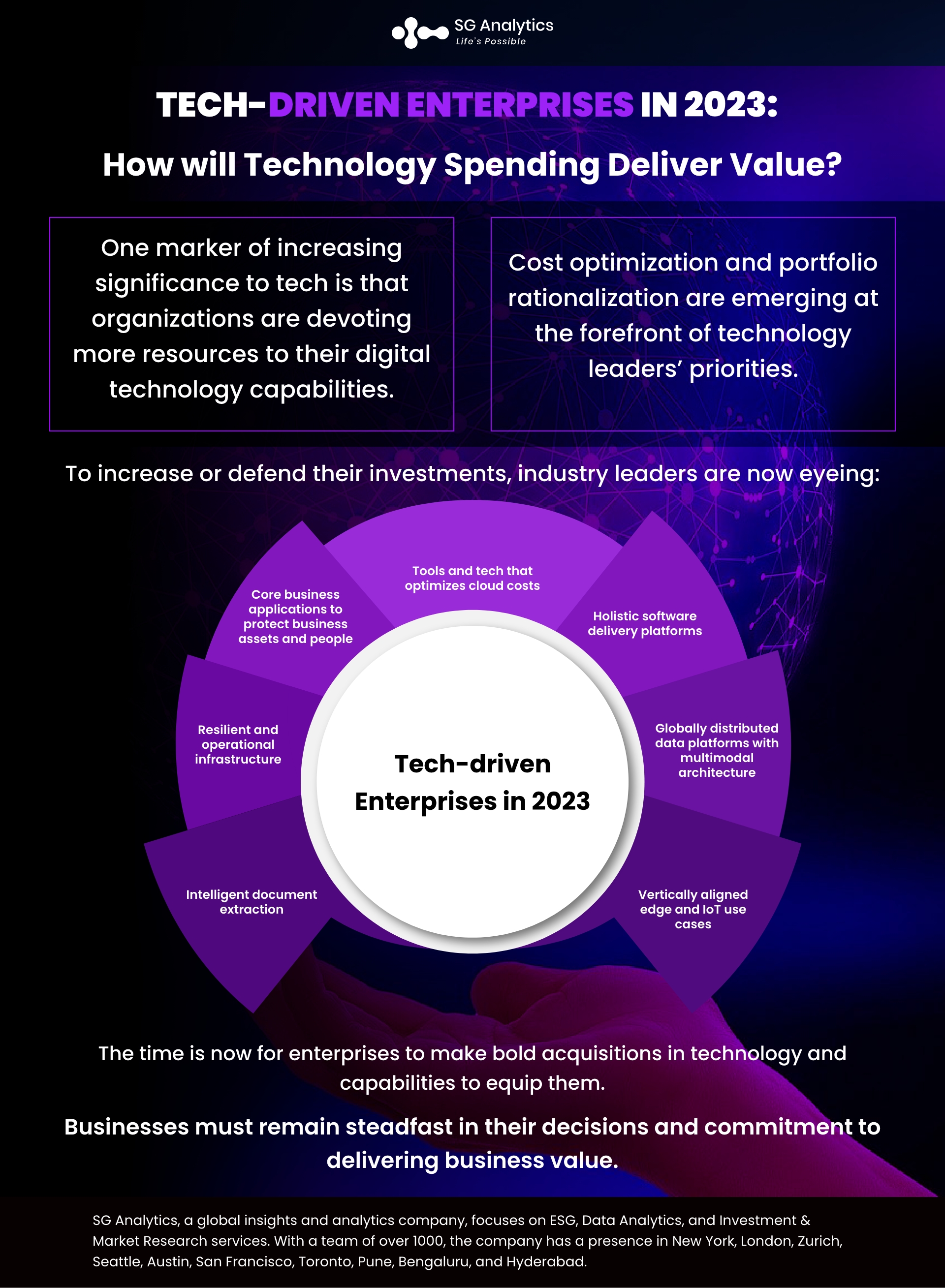 Final Thoughts
The recovery from the pandemic and ongoing war for corporate are expected to have permanent changes to many dimensions of an organization, such as the pace at which business operations are conducted, the nature of that business's value proposition, and the capabilities as well as leadership that are essential for success.
Digital and technology-driven disruptions are creating winner-takes-all dynamics in many industries. A significantly small subset of organizations is likely to thrive—and even these companies have much more room to strengthen their technology endowments. Our survey results confirm that a strong technological foundation is critical, and those leading organizations are far ahead of competitors in building theirs. For everyone's business, the time is now to make bold investments in tech and capabilities that will equip them to outperform others in this rapidly evolving landscape.
With the growing significance of technology to business success, it is not surprising that top performers are twice as likely to have tech leaders who are actively shaping overall tech-driven business strategy. This presents tech leaders with a major opportunity to make advances in innovation and product development.
The time is now for organizations to make bold acquisitions in technology and capabilities that will equip as well as empower their businesses to outperform others in the industry. Above all, for the year, businesses will have to remain steadfast with their decisions and commitment to delivering business value.
With a presence in New York, San Francisco, Austin, Seattle, Toronto, London, Zurich, Pune, Bengaluru, and Hyderabad, SG Analytics, a pioneer in Research and Analytics, offers tailor-made services to enterprises worldwide.
A leader in the Technology domain, SG Analytics partners with global technology enterprises across market research and scalable analytics. Contact us today if you are in search of combining market research, analytics, and technology capabilities to design compelling business outcomes driven by technology.